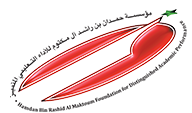 WHAT IS THE FABLAB?
FabLab is an acronym for Fabrication Laboratory, this laboratory provides tools and knowledge to spread a culture of innovation and digital manufacturing using modern digital manufacturing technology.
UAE FABLAB
Hamdan bin Rashid Al Maktoum Foundation for Distinguished Academic Performance has launched "FabLab UAE" in order to create an innovative UAE generation. It aims at creating innovation-supported environment and integrated infrastructure by providing community centres (Fabrication Laboratories) offering the use of the most recent technologies, tools and programs in the world of digital fabrication for all community segments.
Fab Lab UAE got the membership of the Fab Lab International Foundation (Fab Foundation), an American non-profit organization affiliated to the Massachusetts Institute of Technology (MIT). It offers an international network of manufacturers, scientists, engineers, teachers and students of different ages, and working in approximately 1000 Fab Lab laboratory in more than 67 countries so far.

Vision
- Creating an innovative and productive Emirati generation

Goals
- Creating a supportive environment and infrastructure for innovation
- Spreading the culture of innovation and digital manufacturing in the country
- Qualifying Fab Lab pioneers in the field of digital manufacturing